Like everything else on this site these come with NO guarantees and NO free support. Use them at your own risk. Updated June 2017



---
Useful Formulae (21 K .xlsx)
Some handy color conversion formulae
derived primarily from "Measuring Color" by Robert Hunt.

NO GUARANTEES OF ACCURACY

- any errors are probably ours, not Hunt's. Buy the book if you want to be sure.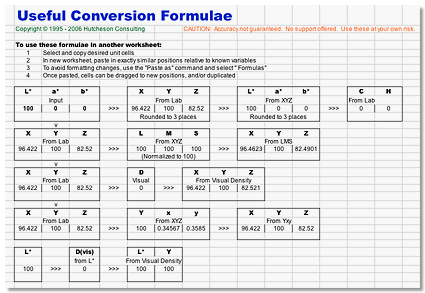 For additional color science math visit http://www.brucelindbloom.com
---
RGB coords (132 K .xls)
Play with phosphor coordinates and visualize them on a CIEY,x,y diagram. Compare the gamuts of different RGB working spaces. You will need some fluency in Microsoft Excel to use this.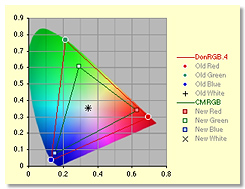 Added March 2006: "Ekta Space PS5, J. Holmes" (copyright 1998, Joseph Holmes, http://www.josephholmes.com). Follow the link for Joe's informative Read-Me and magnificent web gallery.
---
DeltaE 76 and 2000 calculator
Simple spreadsheet for calculating the two most common versions of Delta E.
Use at your own risk.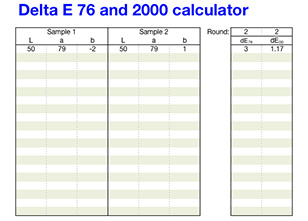 ---